Elevator Guarding is put in place for the safety of workers
There are different regulations on Elevator Guarding depending on your country, state or province. Not complying with local regulations could mean large fines and/or imprisonment. Please refer to our links for more information about Elevator Guarding regulations.
Machine Room Guarding designs all Elevator Guarding in accordance to:
ANSI B11.19-2010 - Performance Requirements for Safeguarding
OSHA General Industry Standards, Subpart 0: OSHA 29 CFR 1910.212 - General Rquirements for (guarding of) all machines
CSA Standard 2432-04 - Safeguarding of Machinery
TSSA's Document - Elevator Machine Room Guarding, a Best Practises Guideline Produced by Industry Stakeholders
There are two main types of Elevator Guarding:
Componet Guarding: A fixed barrier or protective device placed on or around the machine, or portion of the machine, to prevent a worker from coming into contact with a hazard. Click here for more information about Component Guarding.
Global Guarding: This is a fence style perimeter guarding that goes around the entire machine to protect workers from the hazard. Also known as Machine Perimeter Guard or Machine Guard Fencing. Click here for more information about Global Guarding.
Photos of Component Guarding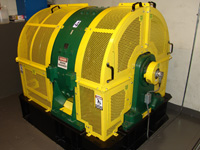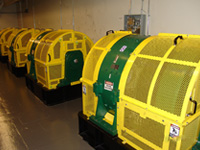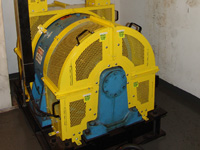 Photos of Global Guarding